Building event-driven architecture with Aiven
CASE STUDY
Overview
JobCloud has the biggest job boards in Switzerland. Since they decided to implement an event-driven architecture, Aiven for Apache Kafka has been helping them leverage their old infrastructure and add elements with no downtime and sustained performance.
Uses: Aiven for Apache Kafka®
Cloud: Amazon Web Services
Industry: Technology
Year founded: 2013
Products used
Hosted on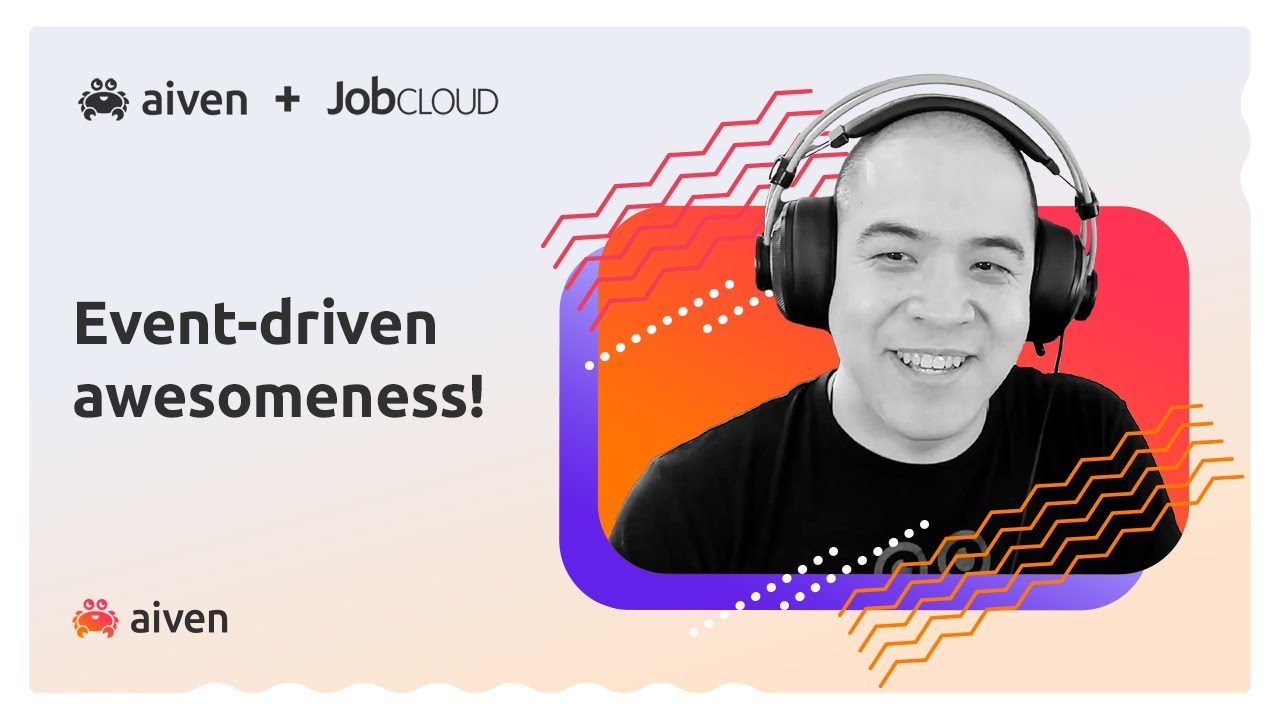 "We've never had any problems with Aiven. No interruptions, nothing."
Nicolas Chiu
Lead Software Developer at JobCloud
The Challenge
Founded in 2013, JobCloud provides traditional job-posting and job-searching services as well as multilingual semantic recruitment technologies, candidate management, employer branding tools, analytics and programmatic job ads.
For historical reasons, JobCloud had ended up running a number of legacy systems. "We have a lot of legacy systems in place, using outdated languages and implemented with a really strange database setup, and nobody dared to touch them," says Nicolas Chiu, Lead Software Developer at JobCloud. The systems were just there, mostly working, but this was hardly ideal from a maintenance viewpoint.
JobCloud's goal was to modernise their systems into an event-driven architecture to better support modern data requirements. At the same time, they really didn't want to directly access the strange APIs. The easiest answer, it seemed, would be to insert a messaging layer between the other systems that would separate the complexity of the legacy systems from other services, whether existing or new.
After months of evaluating messaging and streaming solutions, JobCloud decided to go with Apache Kafka, arguably the quintessential solution for streaming event data. "It has a huge ecosystem and contributor base. It also has a lot of connectors, which makes it easy to integrate other systems," Nick says. 
But Apache Kafka is not the easiest system to run.
"When we started out, we noticed that Apache Kafka has a huge learning curve. There's just so many things that you can configure. And at the very beginning, we were really overwhelmed."
Finding a provider wasn't easy, either. The first one they tried couldn't offer all the features they needed, like ACLs on topics and locking integration, in spite of the prohibitive price tag. The JobCloud systems also proved to be too much for the provider's technical capabilities.
"We were desperate to find anything better, and back then it was really hard to find good providers," Nick reminisces. "So when we found Aiven, we were immediately like 'hel-lo, what kind of plans do you have to offer?!'"
"I really feel like you guys want to help us out."
Nicolas Chiu
Lead Software Developer at JobCloud
The Solution
"It was definitely not a small thing to move from one cloud to the other, let alone another region," says Kashyap. "And everything's being brought in from a different Kafka service. Besides, we're a consumer facing product for pretty much everyone who has a mobile device in Indonesia, so the scale is also pretty big and we cannot afford downtime."
Kashyap explains their migration process in brief: "We duplicated everything across both clouds, both the data and the systems. And then we moved over the user actions to the new region."
Reliable, convenient and solid
GoTo Financial's updated solution on Aiven for Apache Kafka offers great reliability and ease of use for their customers, both consumers and businesses. Because all the services are integrated into one system, the end user can stay up to date with their orders and with their wallet.
The Outcome
Right now, day by day, JobCloud sysadmins hardly even remember that Aiven for Kafka is there. It's just working as it should, and nothing's really going on.
"We've never had any problems with Aiven," says Nick. "No interruptions, nothing, not even when there are lots of maintenance updates and Kafka versions to apply at once. The only thing we see in the monitoring is the broker names and whatever change. Nothing bad ever happens."
Thinking about it, Nick can remember one instance when JobCloud had to open a real support case with Aiven. "But it was solved so quickly, and it went away so completely, that I can't even remember what it was about," he chuckles.
Aiven is always looking for ways to serve customers better, like all companies, but Nick is particularly impressed by the way Aiven goes about it. He feels that the customer's feedback and input is actively sought and then acted on where it comes to things like feature roadmaps.
Over the past three years, JobCloud's event-driven structure has grown and is still growing heavily, and everything still works like a dream. The company has been able to live with its legacy architecture while still expanding and helping ever-increasing numbers of employers and job seekers.
"We're really, really happy with the approach that we took, and that we chose Aiven as the provider," Nick says. "I see a bright future for us here."
"We're really, really happy with the approach that we took, and that we chose Aiven as the provider."
Nicolas Chiu
Lead Software Developer at JobCloud