▶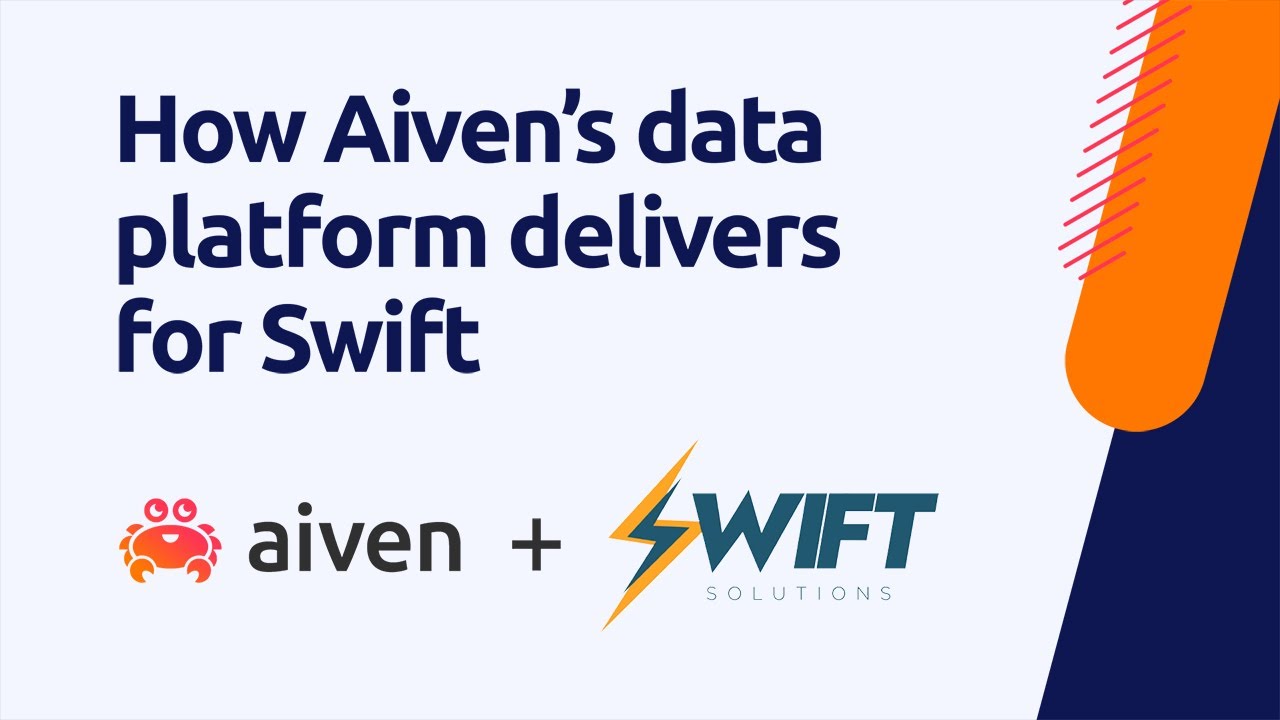 Aiven enabling Swift growth
Swift expands its delivery and order fulfilment services by using Redis, MySQL and PostgreSQL.
Highlights
The logistics business is expanding and within it, Swift Solutions is growing its market share. They have to be able to scale fast and continually optimize in order to meet customer demands. By relying on Aiven's fully managed services they can do this.
Swift uses Aiven for Redis ™* and Aiven for MySQL®️ in production, soon to be joined by Aiven for PostgreSQL® and Aiven for Apache Kafka® as they add more and more warehouses and open up their WMS for partners. This gives end users access to real-time data about their deliveries.
The challenge
Swift Solutions, founded in 2020 and recently acquired by Tokopedia, is a Jakarta-based logistics company offering delivery and order fulfillment services in the fast-growing Indonesia region.
The logistics industry has seen unprecedented growth in 2020-2022, partly due to COVID-19 and its influx of home-delivered goods, partly to technological innovation and new players that offer increasingly smooth and affordable service. What's more, the business is also having to respond to shorter and shorter delivery time requirements. In Indonesia, services like the quick commerce Tokopedia NOW, required delivery times are down to under 120 minutes.
Caught up in this movement, Swift Solutions is growing rapidly, fuelled by their recent acquisition by Tokopedia. Read how Swift is scaling up their infrastructure with Aiven, in order to meet enormous growth from 15 million orders this year to 45 million next year.
"Being able to use Kubernetes and Terraform is a really good feature at Aiven. We have a better DevOps flow, and configuration errors are history."
Ignacio Evan Daryanto
VP of Engineering at Swift Solutions
"Our growth will be huge this year and the next," says Al i Zainuddin, CTO at Swift Solutions. "This year, we expect to be processing about 15 million orders. Next year's target is 40-45 million."
The first priority for Swift Solutions is to maintain their market share in this global change by growing their business and meeting the increasing needs. Their operations must be ready to scale up drastically in a short timespan. But that's not all, because these changes are about more than scale. Like their competitors, Swift Solutions has to re-evaluate the whole architecture and consider how to set it up going forward.
Swift Solutions has been using a solution based on MySQL and Redis, with Kafka for data streaming and Kubernetes for orchestration. The company continuously struggled with finding DBAs to maintain it, an issue that became more and more critical as the amount of data increased. This represented a continuous, low-grade headache for Swift, with occasional peaks of migraine whenever outages took down their services.
After one particularly prolonged outage, things came to a head. Swift Solutions was aware that their data infrastructure support and maintenance had to be renewed, but not only were they unable to find DBAs to take the job on, but they were also reluctant to invest in a single technology solution. Outscoping any solution posed a clear risk to their flexibility in a period of growth. No matter which set of tools and skills they chose, it might all have to be changed up again if a new solution looked more promising in the changing market.
Buying their data infra fully managed and hosted was their only safe course.
The solution
In Aiven, Swift Solutions found a partner who can host and manage for them the exact same solution as their old one. Aiven was able to provide all the data infrastructure components they needed, and what was more, they were collected under the same Aiven Console. Swift needed no immediate changes to their basic setup, all that had to be done was migrate the data over to Aiven's services. This was easy to do without any downtime, allowing business to continue and customers to receive their orders.
Currently Swift Solutions is using Aiven for MySQL and Aiven for Redis for data storage, which is a very stable, quite conservative setup. Swift deploys their applications into a cloud based Kubernetes, and they have adopted the Aiven Kubernetes Operator for testing while Aiven is still actively developing it.
For consistent infrastructure as code, Swift uses Terraform and quickly integrated the Aiven Terraform Provider into their production deployments. This comprehensive orchestration and management solution makes their data workflow configuration effortless, reversible and reproducible.
"Being able to use Kubernetes and Terraform is a really good feature at Aiven," says Ignacio Evan Daryanto, Tech Team Lead at Swift Solutions. "We have a better DevOps flow, and configuration errors are history."
"It's a much better use of our money to pay the management fee than to try to hire a team."
Alfi Zainuddin
CTO at Swift Solutions
The outcome
Swift is happy knowing that their data is in excellent hands at Aiven, who keep the infrastructure up to date and healthy. "It's still our own database, except it's managed by Aiven," says Evan. "Everything works smoothly, we don't have to worry about it, and we can focus on our own feature development."
"With the great help and support from Aiven, we can keep our infrastructure stable, scale our business fast, and keep control of our data."
Alfi Zainuddin
CTO at Swift Solutions
Read case study
Alfi echoes this. "In practice, apart from Aiven's excellent support, there's not much functional difference between using our own infrastructure and using Aiven's, but on the mental side, the difference is huge. We have a lot less pain and headaches now!" he laughs.
Alfi adds: "Our personnel bandwidth is limited. It's a much better use of our money to pay the management fee than to try to hire a team for just this function."
Alfi calculates that Swift's TCO of Aiven's services to be in the neighborhood of 10% compared to their previous setup, but he points out that with the reduced management costs, they're actually saving money. Just the salary of one trained DBA brings their TCO savings into the 30-40% range. On top of that they have the benefits of increased reliability and stability.
Going forward with Aiven
The next technical step for Swift is to implement their Warehouse Management System 2.0: start using Aiven for Apache Kafka with Apache Kafka Connect to stream warehouse data into BigQuery. This way they can implement advanced horizontal logistics collaboration (HLC) with the larger Tokopedia ecosystem.
BigQuery data flowing through the system includes operational delivery and warehouse data but also monitoring and metrics, leading to a better overall view of the status of the supply chain.
This will enable them to create operational and executive dashboards, plus a recommendation engine that will enhance integrated business planning, putaway processes and supply chain orchestration.
Another future improvement will be implementing change data capture (CDC) so that their sync with BigQuery can be continuous instead of hourly. This will let every end user get their delivery information in real time, all across the Tokopedia ecosystem.
But the most exciting news is yet to come. Swift's data solution is getting to be so robust and extensible that they're planning to offer their Warehouse Management System (WMS) to other Dilayani Tokopedia and Tokopedia partners to use, too. "That's going to be huge," Alfi says. "We've planned to utilize Aiven's data infrastructure to scale and roll it out properly."
With Aiven, they can scale up so quickly and easily that it frees them from worrying about capacity and carrying the risks of initial investment.
So the future's looking bright and headache-free for Swift. "With the great help and support from Aiven, we can keep our infrastructure stable, scale our business fast, and keep control of our data," Alfi says. "That's the key."
Related case studies
Explore more customer success stories relevant to this one or browse all Aiven case studies
Transportation and Storage
Spare provides a platform for building transportation services by using PostgreSQL.
The global ADEO home improvement conglomerate uses an Apache Kafka driven infrastructure to enable omnichannel shopping experiences.
Indonesian video service Vidio provides a scalable, reliable streaming platform with Aiven for PostgreSQL®.
Get your first cluster online now
Aiven makes setting up cloud databases so simple anyone can do it. Our set-it-and-forget-it solutions take the pain out of cloud data infrastructure.