Feb 6, 2023
Multicloud drifting, with Dups and Supermetrics
Meet Duleepa "Dups" Wijayawardhana, the CTO for Supermetrics, and find out how Aiven has helped Supermetrics guide their data across clouds.
The customer business problem we're solving is actually fairly simple. I have data, and if I want to put it into one place to analyze it, I'm going to either have to go to each one of those places and cut and paste it, or I can just use Supermetrics. Click a few buttons, say what kind of data I want, schedule it even–and then off we go to the races. Suddenly I have the data and I can do the analysis.
For Supermetrics' Chief Technology Officer, mobility across clouds is a dream. A dream that is turning into a reality for cloud-native companies–as well as a necessity.
Introducing Dups
Duleepa "Dups" Wijayawardhana is CTO at Supermetrics, a Finland-based company with headquarters in Helsinki and offices in Atlanta, Dublin, Vilnius, and Singapore. Dups got his start as a developer with a background in DevOps. With the help of smart and talented colleagues, he founded companies with funding from some of Silicon Valley and Canada's leading venture capitalists.
Today, with more great talents on his side and an arsenal of business instinct at his command, he advises and consults on technology that brings people together, inspires, innovates and makes sense of the world. He was voted Finland's CTO of the Year in 2021, a victory he proudly attributes to the great Supermetrics team.
Supermetrics is an organization of over 300 staff, including more than 80 developers. They help over 17,000 customers move data from scattered marketing platforms into their go-to analytics and reporting tools.
When I joined Supermetrics, we were serving millions of queries. Now we serve billions of queries. What we used to do, we did literally with four servers. We now have hundreds of servers to do that processing.
The changing face of the datasphere
In just 5 years, Supermetrics has grown almost beyond recognition—and they're not the only ones. The ocean of data in which Dups and his colleagues swim is bigger, deeper, and more here-there-be-dragons-y than ever. Also there's more than one ocean.
There's business challenges all around the world. So for example, what used to be, "it's okay, you can process everything you have in the one place,"–no longer. We have to serve our EU customers inside the EU. There may be a situation where a customer might say, "I don't want to be in this cloud. I want to be in another cloud." These are the kinds of problems that Aiven, for example, is helping us solve and scale.
Manually updating every single database to a new version is time consuming. Normally, Supermetrics would have needed to do it in AWS, and in GCP, and then just hope they were linked to the right version. Now, Supermetrics can cut from one cloud to another of the same database type with minimal effect on their end user experience.
Lifting heavy data with Supermetrics
Data analytics teams can use Supermetrics to draw data from lots of places into one repository, without getting repetitive strain injury from hitting copy-paste a million times a day. Fed up with managing three separate cloud environments with different versions of the same open source software, Dups and his crew decided they wanted to build a data infrastructure that was robust, scalable and easy to self-manage.
What kind of data?
Supermetrics' main focus is marketing and sales data. Their product integrates to over 100 different platforms—Facebook Ads, Google Analytics, TikTok, HubSpot, etc. With Supermetrics, marketers and analysts can easily automate data transfers into their favorite analytics platforms—whether it's a spreadsheet, a data warehouse, or a BI tool.
In doing so, Supermetrics process billions of queries on behalf of their customers–and transfer terabytes of data.
Aiven to the rescue
Aiven doesn't manage Supermetrics' infrastructure, but provide the software that enables Supermetrics to centrally manage their entire data infrastructure.
"One of the reasons why we moved to Aiven, as opposed to other solutions that we looked at, is that Aiven allowed us to run the services in our own cloud in our own infrastructure," Dups explains.
Asked what his favorite thing about Aiven is, Dups doesn't hesitate. "The fact that it's built on open source. Aiven's built some amazing technology on top of open source databases to move them around in different clouds in different regions."
To the clouds and beyond
The next thing on the horizon for Supermetrics is to enable full data sovereignty for customers. Dups wants their customers to be able to benefit from Aiven's ability to move data between clouds and regions. Supermetrics' customers should have the opportunity to choose where their data is processed. In addition to behind-the-scenes reliability, the customer would have a real choice.
With the world of data only getting larger and more complex, the future is looking bright–and busy–for Supermetrics and our friend Dups. At Aiven, we're looking forward to seeing what challenges are ahead.
Want to see some more great success stories from our fellow data travelers? Check out our case studies to see how Aiven has helped businesses to thrive.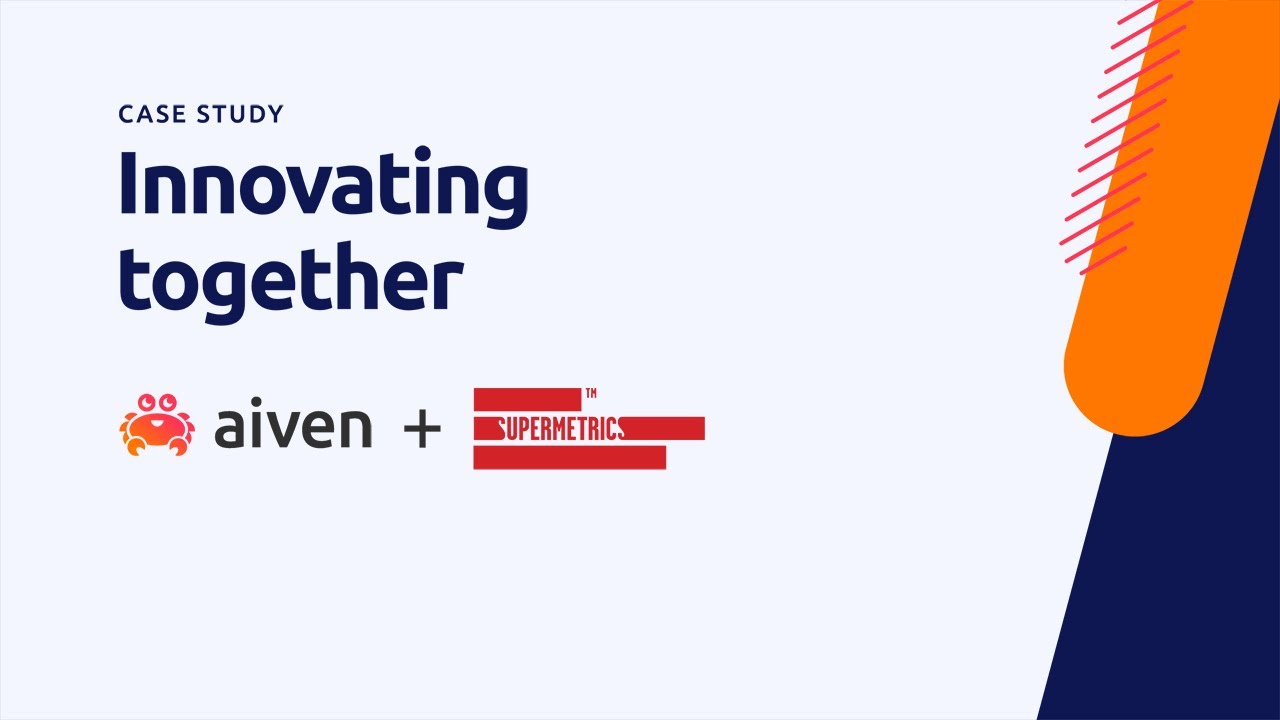 Transformation is coming
How have successful companies from a range of industries used a managed data platform as part of their transformation strategy? Check out how they solved their business and technical challenges from our ebook.
Grab it here
To get the latest news about Aiven and our services, plus a bit of extra around all things open source, subscribe to our monthly newsletter! Daily news about Aiven is available on our LinkedIn and Twitter feeds.
If you just want to find out about our service updates, follow our changelog.
Related blogs
Is your cloud strategy already based on using multiple cloud environments and regions? Read about the benefits and challenges of multicloud.

Aiven's long list of security standard compliances is an advantage to our customers. Find out how cloud service buyers and providers both benefit.

Check out this blog post from our guest writer, Gilad David Maayan, covering 5 best practices for cloud database management.
Subscribe to the Aiven newsletter
All things open source, plus our product updates and news in a monthly newsletter.